MYSTERY!!!!
MAN WHAT A DAY SO FAR
Okay so I checked my mail this morning and I had that little slip in there that says, "Go to the post office and pick up whatever it is we didn't want to cram into your tiny mailbox" and I thought, "MAN BUT THE POST OFFICE IS ON THE OTHER SIDE OF TOWN BLUGH" but I went anyway.
I stood in line for what seemed like five forevers and finally the one post office clerk (as in the only one there) got through with the five (million) people in front of me and came back with an envelope.
Looking at the front, I did not recognize the return address. Some guy named Anthony Clark in Indiana. I don't know any Anthony Clark. I figured maybe it was someone from the onlines, going by their real name.
The package was addressed to "Kevin O'Mara (a man of consequences)" which I thought weird as I do not recognize that phrase.
I stood in the post office and opened the package and I made this face (reproduced for the purposes of this blog post):
BECAUSE MAN INSIDE THAT PACKAGE WAS ORIGINAL NEDROID ARTWORK!
IT LOOKS LIKE THIS!!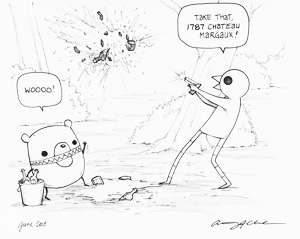 MAN THAT IS TOTALLY REGINALD SHOOTING A WINE BOTTLE! THIS WAS NOT ONLY CUSTOM ARTWORK THIS WAS COMMISSIONED LIKE FOR ME COMPLETELY!
I dug around in the envelope and there was NO NOTE
!MYSTERY
So later today I wrote an email to Nedroid / Anthony and said, "WHAT IS UP WITH THIS AWESOME ART?! WHO SENT IT TO ME?! WAS IT [list of possible suspects]?!"
He wrote back, and said, and I quote:
"I'm glad you enjoy the drawing! I'm not really sure how secret I'm supposed to keep the identity of the person who commissioned it, but I was told when sending it not to include any note identifying him or her. Actually, this person's exact words were "don't tell him I sent it, I'm curious to see if he can figure it out"… so my lips are sealed! It sounds like a fun game to me so I won't ruin the surprise. Good luck!"
Z O M G
So now I have REAL MYSTERY!
And the only clues I have are this:
1. My name is listed as Kevin O'Mara (a man of consequences). A Google search for that exact phrase brings up only one (1) result which doesn't seem relevant.
2. My ZIP code is listed as the ZIP+4. Now I know you can use the USPS ZIP code lookup tool to find someone's +4, but I doubt Nedroid would have gone to that trouble. Therefore the person who gave my address must have sent the +4 to Nedroid.
3. Looking back in my Gmail I can see I have sent my address with ZIP+4 to 10 people. Some of them are suspect.
4. Still, there's that ZIP code lookup tool so I can't put too much weight on the +4.
5. Whoever commissioned it knows that I love Beartato and Reginald. They also know that I like wine. They also know that I like to shoot things. I think most people that know me at all know those things.
6. They may know that I think of myself as Reginald (and my friend Toby as Beartato). If this is the case, my suspects list just became very short. Reginald is the one shooting the gun in the image, just as I shoot guns.
Unfortunately that's where my clues run out. I think I have it narrowed down to one of two people. I'm going to think on this a while longer before I start naming names.
BUT I AM VERY EXCITED
EDIT!
Turns out it was my number-one suspect, Calamity Jon Morris! Thank you, Jon! You're the dog's bollocks!