You know what I want?
March 18, 2008, 10:08 pm
Filed under:
tidbit
Do you? Do you know what I want? Do you know what I am VERY EXCITED ABOUT?
That's right!
I WANT A BINTURONG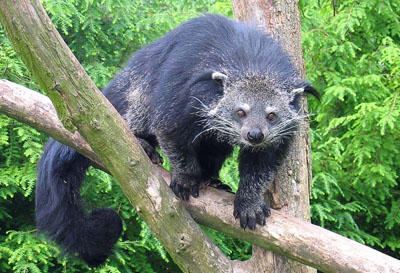 That is a BINTURONG aka BEARCAT and IT IS NEITHER BEAR NOR CAT sorry I'm getting a bit excited IT HAS BEEN A GREAT DAY FOR YELLING
Here, let me quote the Wikipedia entry at you:
It is nocturnal and sleeps on branches. It eats primarily fruit, but also has been known to eat eggs, shoots, leaves and small animals, such as rodents or birds. […] The Binturong can make chuckling sounds when it seems to be happy and utter a high-pitched wail if annoyed. The Binturong can live over 20 years in captivity.
Can you stand it? A pet that CHUCKLES? I need a happy chuckling BEARCAT waking me up in the middle of the night, perched on my dresser or something, looking down on me with its creepy BEARCAT eyes or hell I dunno just whatever they do I totally want one. Also they say "when it seems to be happy" which means NO ONE KNOWS WHEN A BEARCAT IS HAPPY. They are full of mystery.
I BET MY HOUSECAT WOULD LOVE TO HAVE A BINTURONG AROUND
Seriously go do a Google image search for binturong and tell me they're not just the craziest things ever.
They are also apparently vicious when cornered. I will have an ATTACK BEARCAT.
Don't come over any more.
EDIT: aw jeez I TOTALLY forgot to mention that they smell like popcorn. POPCORN!
7 Comments so far
Leave a comment