damn your eyes, too late, etc.
Okay, so here's the new weirdness from me. Sorry it's been so long. I've noticed this before during the many long and fortunate years I've been on this earth, but I'd never really considered it in any serious way until recently. See, we're used to our eyes being different in terms of visual acuity, right? How many of you with glasses or contacts have the same prescription in both lenses? Probably not many. Yes, yes, I'm talking about my eyeballs again. Anyway, yes, sure, we're used to one eye being slightly different than the other or at least we're used to it in terms of clarity and focus and so forth.
But …
see, my eyes see two different sets of color. I swear it's true. I also know it sounds very strange, and I also have noticed that sometimes it is more pronounced, sometimes less so. I took a very few short moments to whip up the following graphic to illustrate my point. I apologize in advance, Henry, for the terrible graphic design. I wish I had more time but I must inform the world about my gross deformity IMMEDIATELY, don't you know.
What you see below is the image as it was taken from my camera (using a custom white balance to try and obtain maximum 'reality') and then two images, one portraying what I seem to see from each eye. Click on it to make it bigger.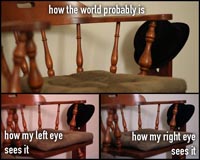 My left eye at its worst has a slight magenta tint to it. For those of you with Photoshop skillz it's as if someone chose to adjust color balance, selected 'highlights', and moved the slider ever so slightly to the left.
No, I swear I'm not making this up.
The right eye sees more blue. Again, adjust color balance, select 'highlights', move slider to the right. Convenient how you have to move the sliders in the direction of the appropriate eye, no? No? Oh.
Anyway, the image above is an exaggeration, of course. My color disparity is not that pronounced. Sometimes it's almost impossible for me to tell. Other days I'll have closed one eye for some reason and when I reopen it I'm reminded that the whole color balance of the scene has perceptibly shifted.
Now, of course, you know what's coming. Your involvement, that's what. A five-second Google search returned no results for "seeing different color in each eye". Of course I put it in quotes so that I wouldn't really get any results, making me seem important and unique. But am I? Does this happen to you?
—————-
In other news, I just wanted to share that I am constantly consumed by low-grade anxiety about photography. I spend most of my waking hours (outside of work, of course, because work is boring and I don't want to take photographs there) looking at things and thinking that I want to capture them. Immediately follows the whole, "But … I don't … I don't know how to capture that correctly. I know it can be done. I've seen pictures like that. But … I … I don't know … I don't know how to capture that correctly. But I know it can be done. But I don't know how."
Did you ever want to know how I spend my time? There y'go.
6 Comments so far
Leave a comment