Miller's Crossing, twenty years later
My favorite movie of all time is the Coen Brothers' Miller's Crossing [IMDb, Wikipedia]. I have no idea how many times I've watched it, but I love it more every time and that's no exaggeration. The first time I watched it was in 1994 at Walter Biffle's place on 8th St. in Cookeville, and I don't know if it was the size or volume of the television or everyone else there watching it, but I missed so much. My eyeballs were pointed at the screen the whole time but there were so many lines and situations that I didn't really grasp. I think that's part of why I like it so much – every time I watch it I see something new. Those things are getting less significant each time, with as many times as I've watched it, but it still holds true. I would love to have seen it in the theater on the big screen.
The first time I watched it I had never even been to New Orleans. Some time after I moved down here I watched it again and I'm ashamed to say I missed it. Then I was reading an article about Miller's Crossing and it said, "filmed in New Orleans" and I heard that record needle sound effect and had to go watch the movie immediately and there it all was! New Orleans is all over this movie! It's set not in NOLA but in some nameless city, yet it was filmed here and it shows.
Later while searching for information about the movie I found Mike McKiernan's Miller's Crossing production notes page wherein he lists several of the filming locations. I can't thank Mr. McKiernan enough for this information, for it made this whole writeup possible.
Miller's Crossing was filmed in 1989. Before Katrina I always meant to walk around and photograph some of the locations to show what they look like now, but at that time I wasn't into photography and just never had much motivation. After the storm I swore I was never coming back here (shows what I know, right?). Now I'm here and I realized I need to take the pictures because A.) I know what I'm doing with a camera now, and B.) it's been TWENTY YEARS since they filmed here. That's astounding to me – I can't believe it's been so long.
I tried to prepare as best I could – I took screenshots from the movie and printed them out and put them in a binder which I left in my car so that whenever I was out and around shooting I could try to match the angle and lens as best possible. I shoot almost exclusively with prime (fixed focal length) lenses and let me tell you I've never wanted a quality zoom lens more than when I took the bulk of these shots. Changing lenses while standing in the middle of the street in the sweltering New Orleans summer heat while holding the reference printout in the other hand trying to match the perfect angle … that's for the birds, man.
But now it's done, and I can show you the results. They're mostly exteriors. If you read McKiernan's site you'll find that most of the interiors (aside from the International House) were either sets or heavily modified rooms, so I didn't go searching for them. Everything else I'm going to present chronologically.
[I know the image quality on the thumbnails is low, but I have a lot to show and wanted to save bandwidth. You can click any image for a larger high-quality version.]
---

One: street scene
This is where we find Tom talking to the guy who takes the bets to the bookie. It was filmed in the 2000 block of Magazine Street right in front of what is now Aidan Gill and Juan's Flying Burrito. The woodwork detail you can see above Tom's head in the first screenshot is still there: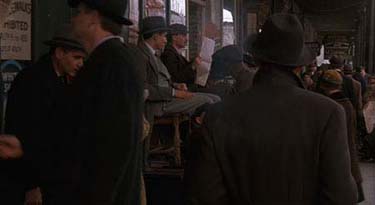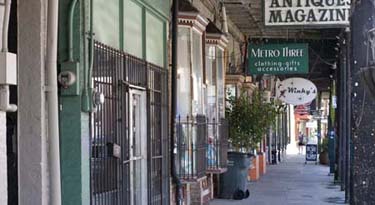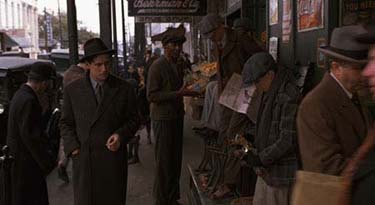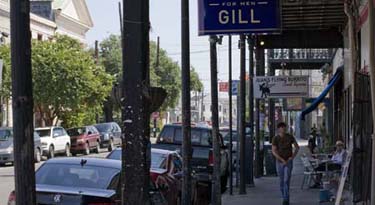 ---
Two: knocking over Caspar's joint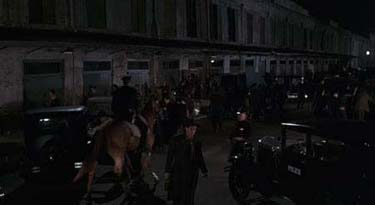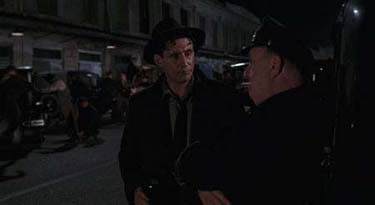 This was filmed in the 800 block of S. Peters Street in the warehouse district. The concert venue Republic is one of the businesses in that block now.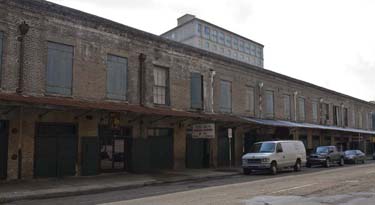 ---
Three: "The old man's still an artist with the Thompson"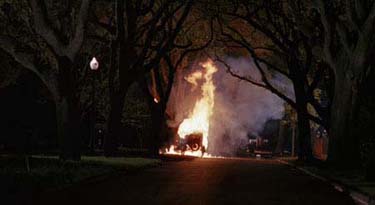 The Coens got permission to film on Northline Street in the Old Metairie neighborhood, a posh residential area. Many of the houses on the street look like Leo's house (though his was built on a stage, of course, so that they could burn it down). It took me a bit of cruising until I found the shot at the intersection of Northline and Hector. I was mainly looking for the brick fence with the lamps that is visible on the right side of the screen in the car explosion scene. I also used the shapes of the trees to confirm that I was in the right place.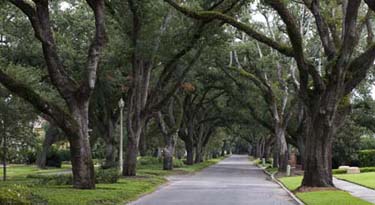 I've talked to someone who lived two blocks away on Hector and he said he remembers clearly the night of the filming and the loud explosion, though he hadn't realized that it was for Miller's Crossing.

---
Four: Tom calls Mink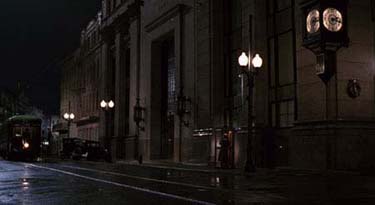 When I watched the movie after learning it was filmed in New Orleans this was the moment I wanted to slap my forehead. There's nowhere else this could be. There's the green streetcar. There's the huge Whitney Bank on St. Charles Avenue, arguably NOLA's second-most famous street. The thing that got me the most was the Whitney Bank lighted clock on the corner. Whitney puts one of those on every single one of their banks, and they're the bank I use, and I couldn't believe I hadn't noticed the clock before. [228 St. Charles Ave]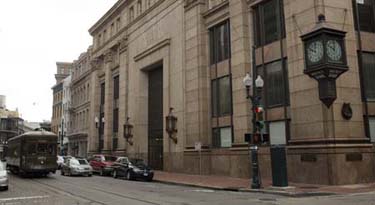 I'm pretty sure the phone booth was a prop, but I can't swear that there wasn't one there 20 years ago.
---
Five: the cops raid the Shenendoah Club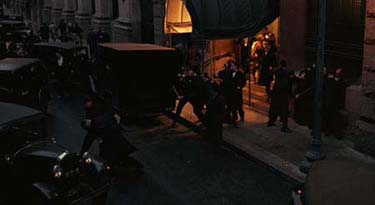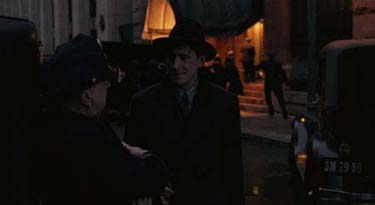 I got lucky on this one. I was using Google Street View to look for locations downtown, and I was pretty sure I knew that this was right near the Whitney Bank building, and it is. It's just around the corner in the 600 block of Gravier Street. Funny thing is that the space that the patrons are exiting is not actually from a building, it's a maintenance alley between two buildings.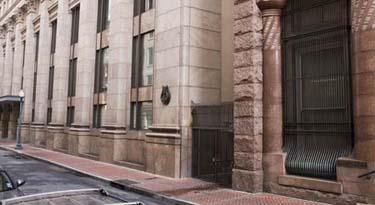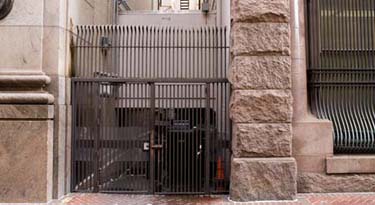 ---
Six: shootout at the Sons of Erin club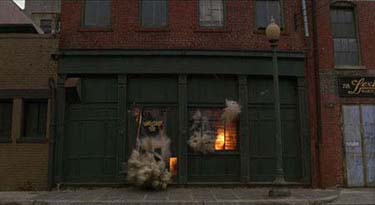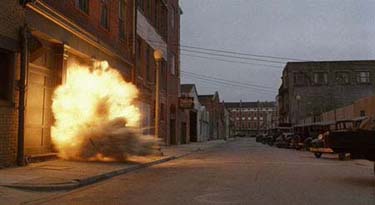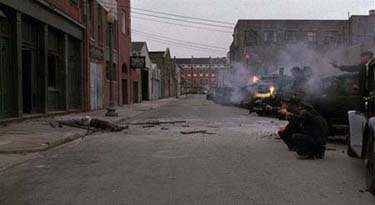 I think this is the one that got me the hardest. When I first read McKiernan's page I said, "CHURCH STREET! I was down there just last week on a delivery and I didn't even recognize it!" Sure enough next time I went back it was staring me in the face. It's a short street, one block long, between Camp and St. Charles (between which there is usually not another street). As you can see during filming they had to erect a fence behind the police side to hide the parking lot.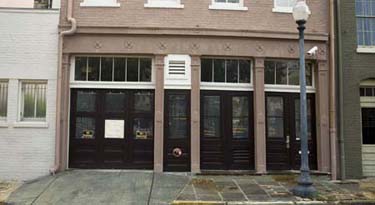 I guess it goes without saying that the trees have grown a bit in the last two decades.
---
Seven: cafe interior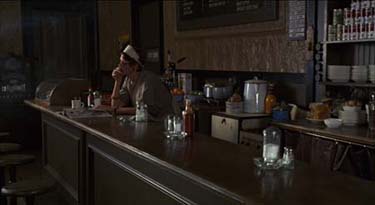 This shot is literally on screen for only a second or two. I never would have thought to include it, but when I was taking my photos on Magazine St. I was discussing the project with someone who mentioned that the cafe interiors had been filmed at what is now Mojo Coffee House [1500 Magazine St.]. Sure enough, while the countertop has been moved, the tin wall paneling is still there.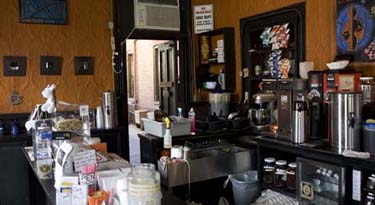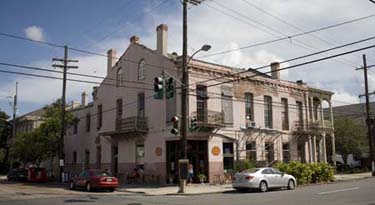 I included an exterior of Mojo so that you can understand how weird it is that when Tom walks out …
---
Eight: Verna confronts Tom outside the cafe
… this is where we find Tom when he exits the cafe. In reality this was on Picayune Place, a little alley one block long that sits between Camp and Magazine. The side on which they filmed doesn't really look all that different now except there are more bars on the windows. The architectural details on the posts and walls are still there though.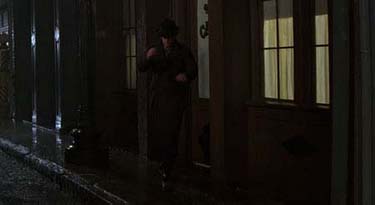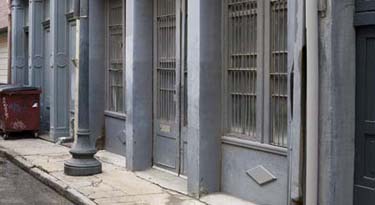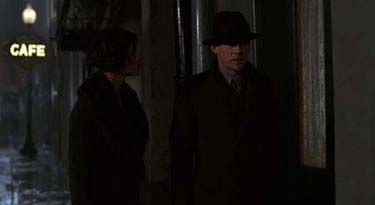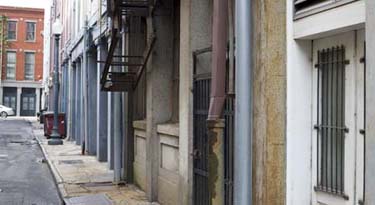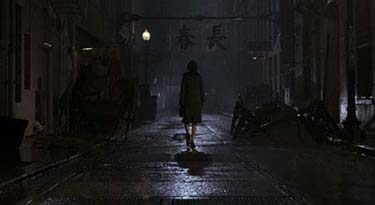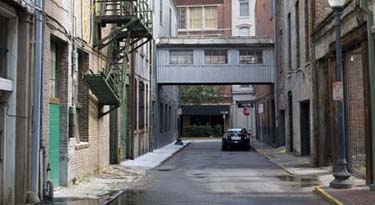 I figured I'd throw in this wide-angle shot from the start of the alley to give you some perspective: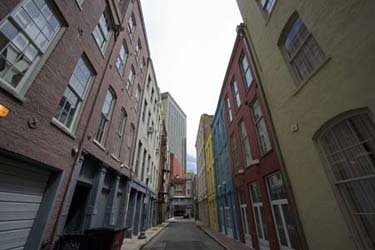 ---
Nine: The Barton Arms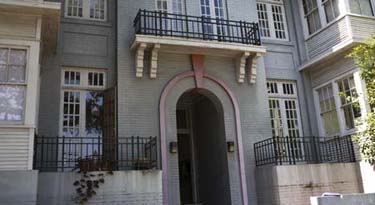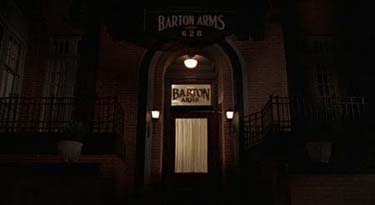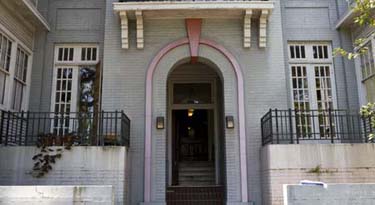 This one may well be my favorite. It's an apartment building called The Fern located at 7904 St. Charles Ave. I was hoping this building was on St. Charles because in the movie you see a streetcar run behind Tom as he looks up to the building at the sound of gunshots. However, I couldn't tell if it was two separate filming locations (as in the case of the cafe interior and exterior). I drove down St. Charles looking for any apartment building that could possibly fit the bill. Towards the Uptown end of St. Charles the apartment buildings get more modern, and I'd pretty much given up. With only two blocks left before the riverbend I spotted this building. I figured it was just wishful thinking but no, it was the true location. I only wish Tom's apartment had been real and not on a set – I'd be kicking down doors to try and rent it.
---
Ten: The Royale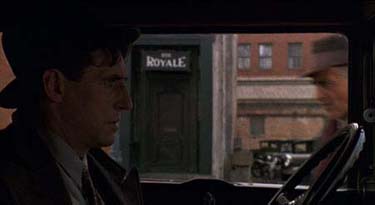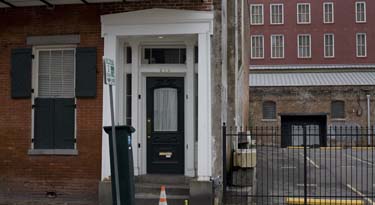 This I found solely thanks to droudy's comment on this blog entry. Sure enough right there at 913 Magazine Street is the building they used for the exterior of the Royale.
---
Eleven: "You can't hijack me, Tic-Tac, we're on the same side – or didn't you get that far in school?"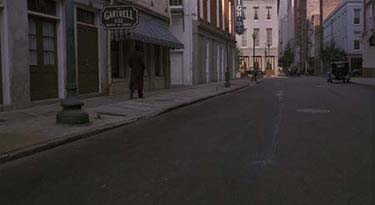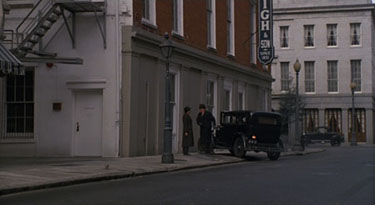 Again thanks to droudy's comment I now know that this was filmed in the 400 block of Gravier Street. They filmed it with the cars in the movie traveling the wrong way down the real-world one-way street, so I'm going to blame my direction of travel for not finding this one myself. Okay, that's no excuse but I have it now and that's all that matters.
I enjoy seeing how much the tree visible behind Frankie and Tic-Tac's car has grown.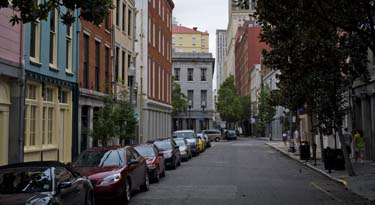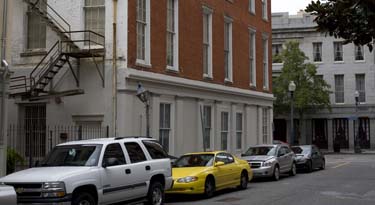 ---
Still Not Found
And now is where my fellow New Orleanians can help me out. I'm down to one last location that I can't seem to find. A few people have commented that they think this building was where the new WWII expansion building is being constructed and therefore is gone forever. I'm not completely convinced but I sure haven't been able to find it yet. Regardless, if you know exactly where it is (or was) please let me know!
Eddie Dane follows Verna from the boxing gym: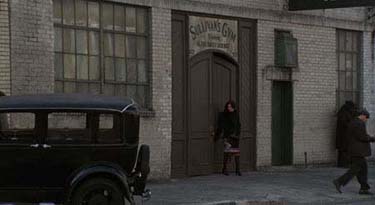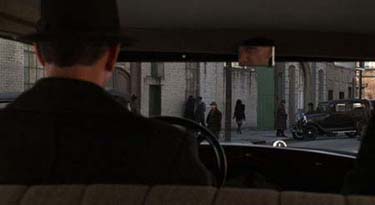 ---
And so ends our journey through the landscape of Miller's Crossing, twenty years later. One more time I need to thank Mr. McKiernan for his valuable information on filming locations. I feel I should specify that all screenshots are of course property of Twentieth Century Fox, and all photographs are mine and I really rather wish you wouldn't steal them.
If you want to send someone a quick link to this article you can use the following pre-shortened URL: http://bit.ly/mc20yr
[EDIT: it occurs to me that nowhere in this blog entry did I use the terms "then and now" or "before and after" but now that's been rectified]