The foodening and drinkening continues
May 3, 2010, 10:43 pm
Filed under:
food
I have found some amazing things to please my mouth lately.
There are these guys – I hear they're from New York, maybe Brooklyn, but that's just what I heard. I could be totally wrong. Anyway, they moved down here and realized there's no proper NY-style pizza to be found in New Orleans. That's not surprising, we do food in our own weird ways down here.
Well, these guys found a catering company that doesn't use its facility on Sundays (again, so I hear – I had a chance to pose all these questions to them and totally forgot) and they decided that on Sundays they would rent out this place and create some amazing pizza. I am here to tell you that they are doing exactly that. They call themselves Pizza Delicious and it lives up to its name.
So here's the thing, though – they only prep a certain number of doughs the day before. I think they started at 60 and are now up to 90, but they go fast. That means if you want one of their pizzas, you'd best call them at 5PM sharp to get your order in. When I called I got the pancetta and creamy sauteed mushroom – an amazing creation. All their pies are one size, 18″, and like I said, you'd better get your order in fast.
They also are located in the Bywater, a part of town that isn't terribly far from me but not necessarily convenient to get to. They'll deliver within the Bywater, and maybe the Marigny, but if you're not there then you're destined for pickup only. They don't publish their address on their site, so I'm not going to list it here, but it's not hard to find and if you order over the phone then obviously they'll tell you where to go.
When I arrived I saw this: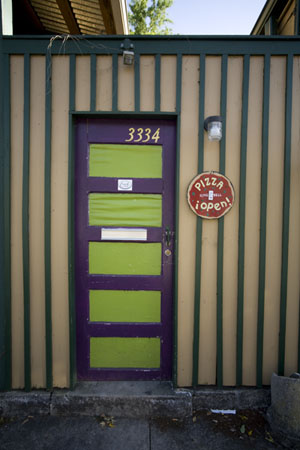 and sure enough, that is what it looks like – a door in part of a side wall leading into an empty courtyard-ish area. I won't spoil what was behind the door, other than to say it was TASTY.
While I was talking to the guys at Pizza Delicious I noticed one of them had some banh mi sitting there waiting to be eaten. Because I love Vietnamese food, I said, "Hey, where'd you get the banh mi?"
I ask that because all of the good Vietnamese food in this city is on the West Bank, which is to say all the way across the Mississippi River, which is to say somewhere I never ever go, unless I'm specifically looking for Vietnamese food. Well, um, I mean I thought it all was. And his banh mi was, yes, it was from Tanh Din which is a great joint on the West Bank. "But hey," he says, "have you ever tried Eat Well on Canal and Broad?"
No. No I had not. I had driven by there months ago when it opened and seen a sign in the window that said Vietnamese food, but I didn't really trust that a corner store on Broad Street would have real pho or anything else I would want to eat. Later that sign came down and I figured they had quit serving it already.
I mean look at the place: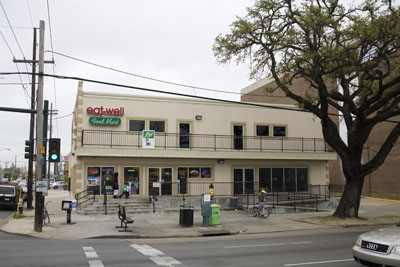 Doesn't look tasty to me. Looks like a place to buy candy bars and cigarettes and bad liquor – you know, like every corner store in this city. Don't get me wrong – there're some good po-boys and fried chicken and seafood to be found in corner stores, but Vietnamese? And yet here I was, talking to some hip kid who knows his food and he was recommending it, so I stopped by no more than two or three days later. And you know what I got?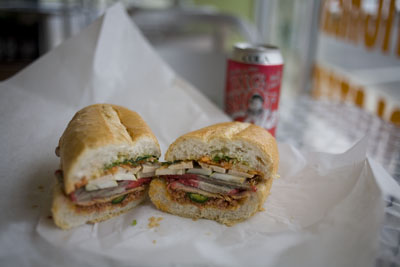 That's right, some awesome banh mi. They only have one flavor – triple pork – and it's delicious. I also picked up some pho, because I can't go to a Vietnamese joint without getting pho. It was tolerable, better than Dosun Noodle House, but it was no Pho Tau Bay pho, nosir. But still, the banh mi! Just a few blocks from work! Actually that photo above is from the second time I went there on this Saturday – that's how good their sandwiches are.
Oh, and you get a free 12oz. can of Big Shot soda with every sandwich. I don't necessarily want Big Shot but it's there if I need it, right?
To wrap this up I'd just like to mention two recent beverage purchases of mine. I figured it was time to have something more than the standard whiskey and gin around the house. Okay, I have far more than just whiskey and gin here, but I wanted something really different. I've had several drinks made with Cynar over at Cure and I figured it was time that I owned a bottle for myself. If you've never sampled this bizarre, rich, savory, sweet, and slightly bitter liqueur made from artichoke, you really … no, seriously, stop making that face – you really have to try it. It's amazing on the rocks or with some soda water, or especially as a Cynar flip.
After that, I went to Editor B's house to spend the afternoon outside grilling out and celebrating Beltane / May Day / Head Shaving Day (no I did not shave my head, only B did). While we were there we drank copious amounts of Amaro, another herbal liqueur. I'd had Amaro before in mixed drinks (see: Cure) but never on its own as a digestif, and man, it hit the spot. Again, plain, on the rocks, or with a little bit of soda water, it was delicious. As soon as I could I picked up a bottle of the Luxardo Amaro Abano. It's not the King of Amaros (whereas I am the King of O'Maras) but it is good.
So, as you can see, I'm treating my body right by putting nothing but the tastiest food and drink into it. I hope you're doing the same.
Cheers!